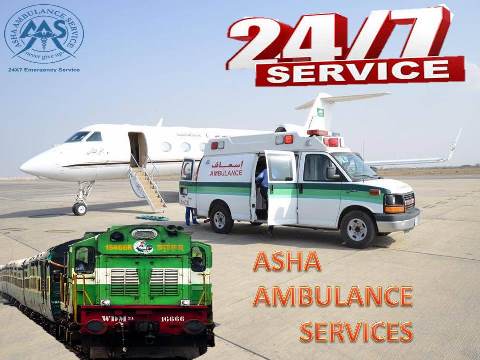 About Ambulance Service in Kidwaipuri
There are lots of hospitals in this locality where the patients get their first medical treatment. Mainly, for this local medical evacuation services, Asha Ambulance Service in Kidwaipuri always provides the patients Cardiac Care Ambulance and Basic Life Saver Ambulance. This ambulance service is the fastest ambulance service for this location people that is available to them round the clock.
Hospitals in Kidwaipuri: Dr. Indu Bhusan Sinha Clinics, Harsh Clinic, Child Hospital, Diya Drishti Ortho Care Centre, Shiv Shakti Hospital, etc.
Asha Ambulance Service, AAS is standing with the most hi-tech and latest medical transportation service facility. Whenever the local people want to go another city like- Delhi, Mumbai, Chennai, Kolkata, Bangalore, Vellore, or any referred city hospital. This emergency ambulance service is always ready to help and transfer their loved one with the entire sets of medical conservation. This ambulance service provides ground level to aeromedical level all types of rescue and transportation services.

Basic & Advanced Life Support Ambulance Service
For the short distance and the local medical evacuation service, Asha Ambulance Service Kidwaipuri offers Basic Life Support Ambulance, Cardiac Care Life Support Ambulance, Oxygen Ambulance, Ventilator Ambulance, Emergency ICU Road Ambulance, AC or Non-AC Ambulance, and CCU Ambulance Service. One of the expert ICU medical team units organizes this ambulance journey with the whole sets of emergency equipment.
To go out of this city, Asha Ambulance Service from Kidwaipuri provides all the essential high caring emergency medical transportation services. Generally, for the long distance, this ambulance service company renders Air Charter Ambulance, Charter Aircraft Medical Flight, and Commercial Stretcher in Airlines, Wheelchair, Train Ambulance, and Advanced Cardiac Life Support Road Ambulance Service. These advanced medical evacuation service is based on the highly intensive caring medical setup in which Ventilator, Cardiac Monitor, Infusion Pump, Nebulizer, Suction Machine, Oxygen Cylinders, External Pacemaker, Defibrillator, Emergency Medicines, Respirator, and the whole sets of standard life stocks.
There is the ambulance cost where the people almost trust on us. Only a genuine and economical cost is demanded from the guests. This ambulance service keeps on updating the ambulance cost by which the patient's transportation expenses could be a little.