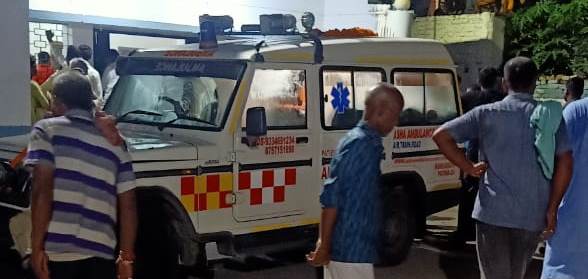 About BLS Basic Life Support Ambulance Service in India:
BLS Road Ambulance
BLS itself stands for Basic Life Support. This word always insists on medical support and transportation. When a patient gets discharged from the hospital he needs an ambulance service and this BLS convenience always assists him. In India, BLS Road Ambulance Service is easily available in every place either a village or a city. This is also called primary ambulance service in India with 24/7 Hour customer service
Today, there are many four-wheeler vehicles are used as Basic Ambulance services. Some four-wheeler vehicles are used as Basic Life Support Ambulance like Bolero, Tavera, Victa, Omni, Winger, Scorpion, & Sumo. These vehicles are available in every place in India as well as the world.

ASHA AMBULANCE SERVICE PVT LTD provides all those four-wheelers vehicles as Basic Life Support Ambulance Services in Patna. The Equipment Lists that are available inside BLS Ambulance are Oxygen Cylinder & Support, Basic First Aid Accessories, Stretcher, & one trained Paramedic.
All the ambulance services are based on GPS tracking. The Global Positioning System helps us during the patient's transfer. The expert and long-time working ambulance drivers are very helpful to manage time. They are familiar with all the routes where the patient has to be shifted in all over Bihar.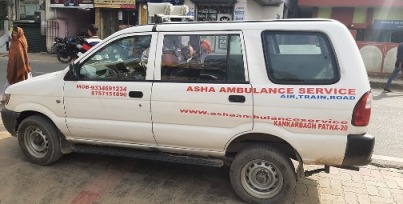 BLS Road Ambulance
About BLS Ambulance Price:
This is the ambulance price where the people mostly attract. This private limited ambulance company always believes in providing quality, transparency, & a dedicated medical team. Being an ambulance service company, this ambulance service provider always carries all the burdens by which the patient safely could get his destination.
Basically, the price or cost of the ambulance is always in range for all the societies of people. This ambulance company never says to the guests for high, unethical, or hidden booking prices. With GST Invoice & description of expenses, this company provides the money receipts. GST Bills always help the people who want to claim medical. It is also helpful to reimbursement of mediclaim.
Query 01: How can an Individual get his BLS Ambulance Service in Patna or anywhere in India?
AAS PVT LTD answers: As a matter of fact, there are two types of ambulance services running on the roadway. The first one is Government Ambulance (Dial on 102 & 1911) whereas the second one is Private Ambulance. ASHA AMBULANCE SERVICE PVT LTD is a private ambulance company that provides quick ambulance service in Bihar within 20-30 minutes. Just make a call to this company & get instant road ambulance service anytime.
Query 02: What are the facilities in Basic Life Support Road Ambulance Service?
AAS PVT LTD answers: Primarily, this BLS Ambulance Service is very helpful to those patients who get discharged from the hospital, in accidental cases, need first basic aid treatment, or need a medical check-up. This ambulance service is used to transfer a patient for a short medical distance within 200 km.
Inside this Basic Life Support Roadway Ambulance, the types of equipment are oxygen cylinders, first aid kits, & basic life-supporting devices. The patient is lying on the stretcher where one appointed paramedic regular checks up.