About Commercial Airlines Stretchers in India:
Commercial Airlines Ambulance
Commercial Airlines is a scheduled flight in the world. These airlines fly in accordance with the Airport Authority of India and Ministry of Civil Aviation Norms. In India, there are nearly 2.6 lakhs passengers' travels by these commercial flights.
The cabin or class of this commercial flight is categorized into three parts as Economy, Premium Economy, and Business. The economy class is so cheap and cost-saving where all the people can easily fly with these airlines. Business Class is costlier than others.

Day by day, the number of domestic air passengers is increasing in India. Mainly, Air Transport always saves our time, and physical harassment; therefore it is becoming more popular. There are some popular airlines whose names are IndiGo, Air India, SpiceJet, Go First, Air Asia India, Vistara, Alliance Air, and TruJet. Now, we will discuss Commercial Stretcher in these airlines.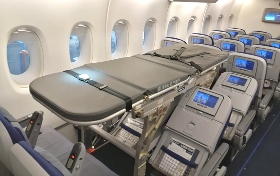 Commercial Stretcher in Airlines
Query-01: What is commercial stretcher or stretcher fitting in airlines?
AAS Pvt. Ltd replies: Commercial Stretcher or stretcher fitting in airlines is a type of air rescue service. In this airway medical transportation, a patient can go from one city to another city with the help of lying on the stretcher. There are 6-8 passengers' seats are used to prepare this commercial stretcher. Airport Operational Team prepares this stretcher fitting to serve the patient.
Tantative Cost of Commercial Stretchers in India
Patna-Delhi: (INR 2.00-3.50 Lakhs)
Patna-Mumbai: (INR 4.50-5.50 Lakhs)
Patna-Chennai: (INR 5.00-5.50 Lakhs)
Patna-Bangalore: (INR 5.00-5.50 Lakhs)
Patna-Kolkata: (INR 2.50-3.50 Lakhs)
Patna-Hyderabad: (INR 5.00-5.70 Lakhs)
Query-02: How an Individual can get this commercial stretcher service in Patna or India?
AAS PVT LTD replies: In fact, any medically needy person can get this commercial stretcher service in Patna or India with the help of a responsible medical or ambulance Service Company. First of all, the needy person has to submit his patient's medical case summary and reports to the service provider.
AAS PVT LTD conveys this medical report to the airport medical team. After some medical procedures and consulting, we plan to transfer the patient for stretcher fitting.
Query-03: What time does a commercial stretcher fitting take to transfer a patient?
AAS PVT LTD replies: AIn fact, there are 24-72 Hours.
Primarily, it depends on the patient's symptoms and caring. What the patients' actual need.
Query-04: How many types of air ambulance services are in India?
AAS PVT LTD replies: There are two types of air ambulance services in India. This is a private air charter ambulance and commercial airway stretcher service. Air Charter Ambulance service is based on emergency patients' transportation services whereas Commercial Stretcher service is based on a scheduled medical flight.

Asha Ambulance Service Pvt Ltd operates both of them from Patna to anywhere in India. In accordance with the patient's need, the guest can hire and confirm his air ambulance service.