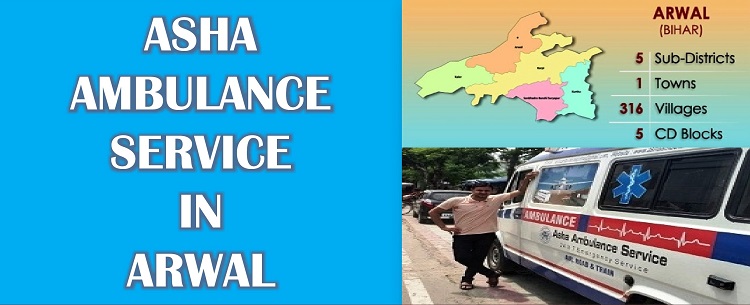 About Ambulance Service in Arwal, Bihar
Air | Road | Train | Ambulance | Emergency | Arwal
Asha Road Ambulance Service in Arwal is today one of the most reliable and high caring ground ambulance services. Our service is based on both types of road medical transfer services by Advanced Life Support Vehicle, ACLS and Basic Life Support Vehicle, BLS. Mainly, the patients from Arwal leave for their higher treatment either Patna or the referred city hospital.
Distance between Arwal and Patna - 64 KMs
Time Travelled by Road Ambulance - 1.15-1.30 Hours
We, Arwal Road Ambulance Service provide Advanced Life Support Ambulance Service that is also called Ventilator Ambulance Service. This emergency vehicle service is well-equipped with all the sets of emergency medical equipment such as- Ventilator, Cardiac Monitor, Suction Machine, Infusion Pump, Nebulizer Machine, Oxygen Cylinders, External Pacemaker, Defibrillator, Emergency Drugs, and all the basic and life stocks. Any severe or high medical caring patient easily transfers along with us under this ambulance service. One senior doctor and one trained paramedical technician take care of the patient in this cardiac ambulance service. It is the most demanding and highest healthcare Asha Cardiac Ambulance Service from Arwal.
Air | Road | Train | Ambulance | Emergency | Arwal
The patient, who requires only oxygen or normal medical support only for transfer from one place to another place. We offer them Basic Life Support Vehicle in which Marshal, Omni, Tavera, and the other sources of ambulance service. It contains only oxygen and normal sets of medical accessories and the paramedical technician cares for the patient during the medical journey. Asha Ambulance Medical Team and Call Attendants are easily available to all the patients for 24/7 hours in 365 days. We are wholly responsible for all societies of patients and their transfer in the nick time of assistance after the call confirmation. We do demand only the authentic and our updated lowest price for both ambulance services.