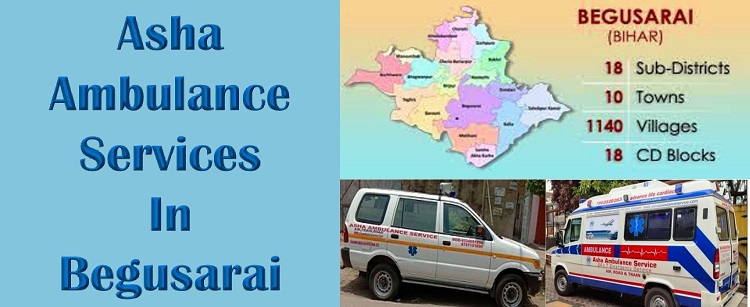 About Ambulance Service in Begusarai, Bihar
Air | Road | Train | Ambulance | Emergency | Begusarai
Asha Ground Ambulance Service in Begusarai provides all types of road ambulance solutions to shift the patients. It is open 24/7 and is available to round the clock for all classes of patients from Begusarai to Patna or vice versa. This Cardiac Ambulance Service from Begusarai does all the facilities of ambulance services by Road. We, Asha Ambulance Service provide both Advanced Cardiac Life Support or Ventilator Ambulance Service and Basic Life Support or small vehicle ambulance services.

We facilitate ambulance services providing the following:
1. Advanced Cardiac Life Support Vehicle (Ventilator Ambulance):
> This Ambulance is an advanced medical intensive care unit based ambulance service.
> All the emergency medical equipment like- Ventilator, Cardiac Monitor, Suction Machine, Infusion Pump, Nebulizer Machine, External Pacemaker,
> Oxygen Cylinder, Emergency Medicines, and the entire standard life stocks are available to the patients.
> One senior doctor and one paramedical technician attend the patient and take care of him or her during the whole medical journey.
> It is available to all severe or emergency patients' transportation for a long distance anywhere in India.
> Asha Ambulance Service from Begusarai takes a fast response to help and transfer the patients to Patna and anywhere in India.
Air | Road | Train | Ambulance | Emergency | Begusarai
2. Basic Life Support Vehicle (Omni, Tavera, Winger, Bolero, or Marshal):
> This is a normal ambulance service and is also available 24/7 Hours to the normal patients' sake.
> Only oxygen and some normal medical equipment sets are available to the patients.
> One Paramedic Technician attends the patient and takes care of the patient during the whole medical journey.
We are Specialized in:
Air Charter Ambulance | Charter Aircraft Medical Flights
Cardiac Care Ambulance | Emergency ICU Ambulance Service
Basic Life Care Ambulance | Oxygen Support Ambulance
Dead Body Transportation | Mortuary Vans
Coffin Box | Freezer Box | Embalming